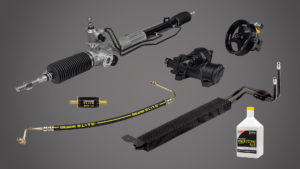 Plews & Edelmann is the total solution for complete power steering service.
Edelmann Elite Total Power Steering Solution
Plews & Edelmann Delivers the Total Solution for Complete Power Steering Service
Program offers all components necessary to do the complete job and reduce warranties
All parts are backed by a 100 year/1,000,000 mile warranty
Edelmann Analytics optimizes inventory and product mix
Dixon, IL November 1, 2022 — Plews & Edelmann®, a leading manufacturer and marketer of power steering components, has created the Total Solution™ in power steering with its Edelmann Elite® program by delivering all of the components necessary to do the job properly and profitably. The Edelmann Elite power steering line now includes power steering rack and pinions, pumps, gear boxes, hoses, coolers, filter, and fluid. Every product is supported by a North American supply chain and backed by a 100 year/1,000,000 mile warranty.
Tony Edwards, Plews & Edelmann VP, Business Development noted, "Edelmann Elite was created to be a true, one-stop resource for all of our customers' power steering needs. No other supplier in North America can match the quality, reliability, and coverage of our program and deliver the full range of power steering components we offer."
The Edelmann Elite rack & pinions, pumps, and gear boxes are brand new parts, built on a proprietary manufacturing platform. They are designed to outperform remanufactured units and even eliminate common failure points in the OE parts. All of the components are tested 100% and a special Designated Numeric Asset® (DNA) identification number is added to help reduce warranty and fraud issues.
Designed to deliver OE form, fit, and function in heavy use and extreme operating temperatures, Edelmann Elite Power Steering Hoses feature advanced engineering and enhanced rubber formulations for excellent impulse durability and resistance to oil, heat, and ozone.
Edelmann Elite Power Steering Coolers are built in the USA and are the exact replacement for the OE part. These coolers feature single tube construction to prevent connection leaks and original mounting brackets for a hassle-free installation. The coolers use OE style cooling fins to prevent tube damage and cool fluid to OE specified temperatures.
Using advanced dual filtration technology to prevent contamination and deliver high-capacity flow, the Edelmann Elite Power Steering Filter features a patent pending design that covers over 99% of VIO. Every filter comes with easily interchangeable 3/8", 1/2", and 5/8" connectors so technicians have the size needed for a proper fit in almost any application, including imports with metric sizing. This also helps reduce inventory requirements and parts returns due to incorrect sizing.
Edelmann Elite Premium Synthetic Power Steering Fluid offers universal application coverage for all vehicle manufacturers except Honda/Acura. The fluid outperforms most other fluids from -58 ºF to +400 ºF and its innovative formulation conditions seals and hoses to help prevent leaks and minimize pump squeal.
Evan Bauer, Director of Business Development, added, "Edelmann Elite is the total solution to the warranty hassles and reliability issues that continually plague power steering service providers. We've engineered our parts to meet and exceed OE performance and reliability, so our customers can enjoy improved profitability and have confidence in knowing they have the parts to get the job done right, the first time and every time."
Optimized inventory and product mix
Plews & Edelmann additionally offers Edelmann Analytics®, an indispensable and industry leading service that provides each customer with the ideal product mix and optimized inventory based on the VIO in the trading area, customer sales mix, POS data, part life cycle, increased turns potential, and GMROI.
Back to Press Kit