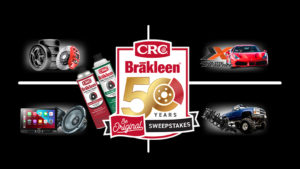 The CRC BRAKLEEN 50th Anniversary 'Be Original' Sweepstakes has hit a milestone of 250,000 overall entries to date.
CRC Brakleen 50th Sweepstakes
CRC Brakleen 50th Anniversary 'Be Original' Sweepstakes Entries Exceed Quarter Million Mark
One grand prize winner will receive a trip to the 2022 SEMA Show in Las Vegas, NV
Horsham, PA – The CRC Brakleen® 50th Anniversary 'Be Original' Sweepstakes has hit a milestone number of contestant entries, surpassing 250,000 entrants since the sweepstakes kicked off in July 2021. CRC created the sweepstakes to mark the momentous anniversary of the introduction of BRAKLEEN, the #1 brand of brake cleaners worldwide. A number of prize packages have already been awarded, and entrants can continue winning weekly and monthly prizes through June 2022, when one grand prize winner will win a trip for two to the 2022 SEMA show in Las Vegas, Nevada. Fans are invited to enter every day at: crcbeoriginal.com.
No purchase is necessary.
The 'Be Original' Sweepstakes celebrates fans of the innovative, first-of-its-kind aerosol brake parts cleaner and encourages them to express their originality by choosing a customized prize package from some of the top brands in the automotive aftermarket. Monthly prize winners get their pick of one of the following prize packages valued at $2,500:
Look Original – customizable wheel, tire, and accessories package from Tire Rack®.
Sound Original – a state-of-the-art sound system, display, and audio accessories from Crutchfield®.
Ride Original – customizable lift or lowered suspension kits, off-road wheels and tires, and accessories from Tire Rack®.
Drive Original – an exhilarating, supercar driving experience package for four people at a world-class racetrack from Xtreme Xperience.
A grand prize winner, selected at the end, will receive a trip for two to the 2022 SEMA show, the world's most renowned event for automotive performance and customization. The Grand Prize includes round trip travel to Las Vegas, a 3-night hotel stay, SEMA show passes for two, and a $1,000 gift card. Additionally, CRC is awarding weekly prize packages of cases of BRAKLEEN to entrants.
"We are thrilled with the response to the CRC 'Be Original' Sweepstakes," noted Dori Ahart, CRC Industries Senior Marketing Manager. "Hitting over a quarter of a million sweepstakes entries in just four months is a testament to the loyal BRAKLEEN customers who love and use our product. BRAKLEEN is the original brake cleaner, and our fans have really answered the call to be original themselves. Our prize winners have gotten the chance to showcase what makes them unique with the custom prize packages they've chosen to fit their individual style."
Fans can visit crcbeoriginal.com to enter the sweepstakes, with extra entries being earned by sharing the sweepstakes hashtag (#CRCBeOriginal) on Instagram and Twitter, watching a CRC BRAKLEEN video, and answering a short questionnaire online. The Sweepstakes is open to legal residents of the U.S., who are 18 years or older (19 years old if a resident of AL or NE; 21 years old if a resident of MS).
About CRC
CRC Industries, Inc. (crcindustries.com) is a global leader in the production of specialty products and formulations for the do-it-yourselfer and maintenance professional, serving the automotive, industrial, electrical, marine, heavy truck, hardware, and aviation markets. CRC trademarked brands include: CRC®, Evapo-Rust®, K&W®, Marykate®, SmartWasher®, Sta-Lube®, and Weld-Aid®.
For more information about CRC Industries, visit: www.crcindustries.com
Back to Press Kit